We just can't get enough of these ladies.  The Loudoun Point to Point is going to BE the place to be this weekend!  Perfect weather and fabulous Jockeys showing us all how it's done!  Today we would like to introduce you to another one of the fabulous ladies – Pam Woolley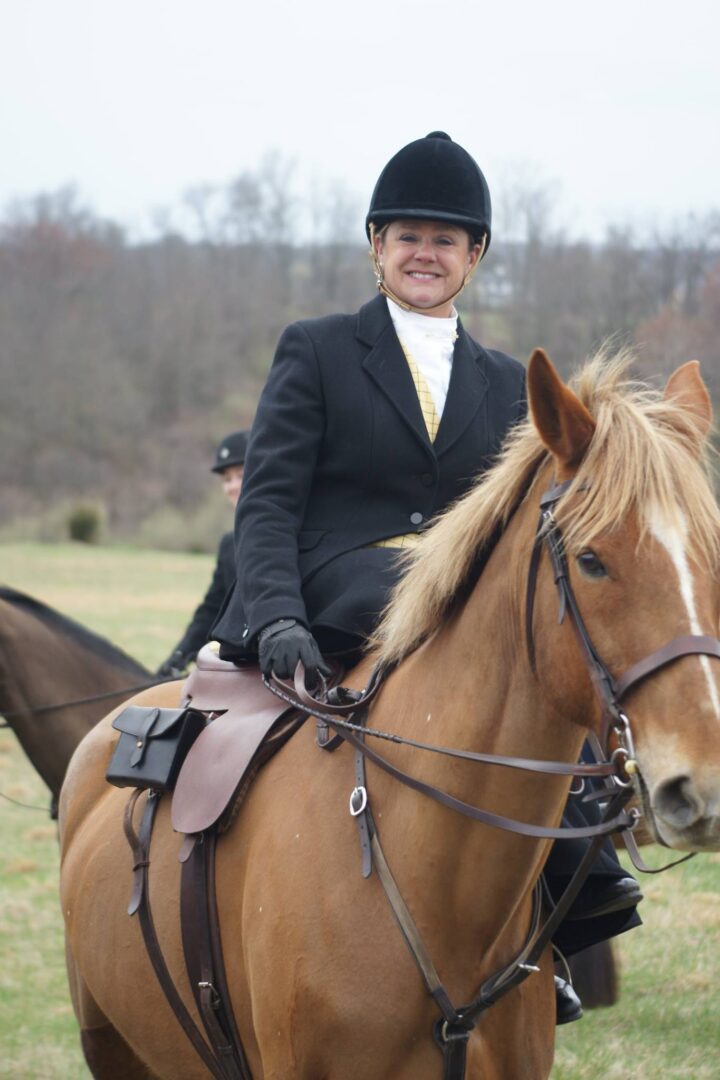 Pam rocking her beautiful smile
So, Pam, inquiring minds want to know……..
How old are you?
Old enough to know better:-)
Who are you riding?
Duke – 12 yo, Irish Sport Horse, 17H, gelding
Where are you coming from?
Middleburg, VA
How long have you been riding and when did you take up sidesaddle?
I've ridden most of my life – hunters as a kid, jumpers as an adult and now I primarily foxhunt.  I also own FlyAway Stables – a lesson, training and boarding facility specializing in the goals and interests of the adult rider.  I took up sidesaddle about a year ago.  I was ready to try something new and it was either going to be sidesaddle or barrel racing.  I chose sidesaddle after seeing one of my friends, Maureen Britell, having so much fun riding sideways – besides, I don't look good with a cowboy hat anyway.
Are you a foxhunter?  If yes, how long have you been hunting and who do you hunt with?
I've been hunting for almost 20 years now.  I started with The Fairfax Hunt (now known as Loudoun Fairfax Hunt) and now I am a member of the Middleburg Hunt.  I also enjoy traveling around to other hunts to see new territory and meet new friends.
What do you love about sidesaddle?
I really love the history and tradition of sidesaddle.
What do you do when you're not riding?
Well, with running my business, teaching and training, I don't really have time for much else.  I enjoy cooking and traveling.  I am also a Feldenkrais practitioner.
What part of the weekend are you looking forward to the most?
I think I'm most looking forward to crossing the finish line…but seriously, I am looking forward to the enjoying camaraderie among the lady riders and having the honor to race at the course at Oatlands historic Plantation.
Chasing a Fox wishes Pam and Duke good luck on race day!