We are proud to continue our rider interviews with the new ladies that have been added to the Oatlands race card. The Mrs. George C. Everhart Memorial Invitational Side Saddle Race will be run on Sunday April 17th.  As you saw in my last Blog post the weather is going to be superb for the race.  If you're looking for a fun filled day of excitement, please join us!
First up in this series is the lovely rider – Dillyn Ketterman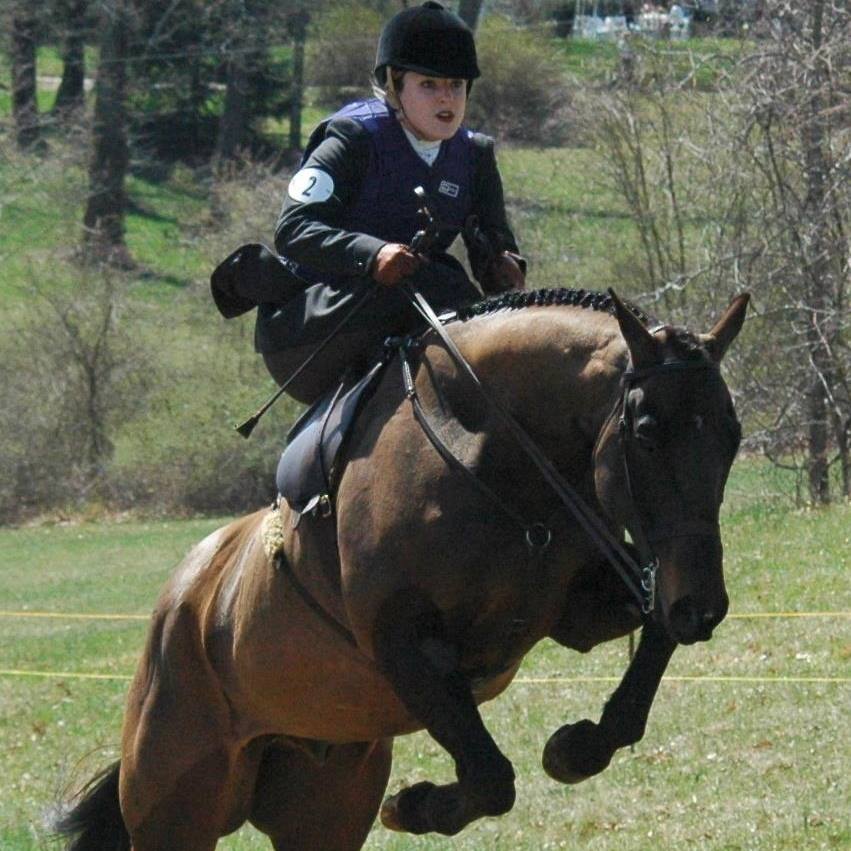 Dillyn taking a fence last year at the Mrs. George C. Everhart Sidesaddle Race
How old are you?
25
Who are you riding? 
Always Elegant, AKA Rhett. He is a 10 year old Thoroughbred, 16.2 Hands.
Where are you coming from?
I'm about 30 minutes from Oatlands in a little town called Philomont.
How long have you been riding and when did you take up sidesaddle?
I have been riding since before I could hold my own head up. When I was 15 I needed a challenge and my 4-H club needed an interesting demonstration for our county fair. I had seen my sister Jackie try side saddle and I thought I would give it a shot. After two lessons on my horse Fool Proof (Dude) from our family friend Carol Simon I did the demo and was completely hooked. Carol sold us her precious saddle and habit and I started riding in regular hunter classes aside. My last year in 4-H I decided I wanted to go out with a splash and that I would ride side saddle at the Virginia State 4-H Horse Show in all of my classes, there is now a rule against doing that, sorry!
Are you a Foxhunter?  If yes, how long have you been hunting and who do you hunt with?
I love fox hunting but unfortunately I do not have the chance to get out much so I am not a member of any hunts. Most of the time when I do go hunting, my sister and I take some of her students with the MOC Beagles, it is a great way to teach kids about hunting and give them experience outside of the show ring.
What do you love about sidesaddle?
"How do you do that?!" That is my favorite thing about side saddle. I love having the opportunity to educate people about side saddle. I love the history, elegance, and challenge of the sport. Right now is such an amazing time to be a side saddle rider and getting the opportunity to be in these races and see it explode in popularity.
What do you do when your not riding?
When I am not riding I am the Pastry Chef at Clyde's Willow Creek Farm in Ashburn. I also have a small cake decorating business, this year for the race I am doing a special side saddle themed cake and my fellow racer Christina Mulqueen will be helping me by painting a hunt scene on it.
What part of the weekend are you looking forward to most?
I am so excited for this race, I have been since the end of last year's race. I have made friends with many of the ladies riding and I am excited about some of the new ladies that I will get to meet this year. It is such a great community of women.
Chasing a Fox wants to wish Dillyn and Always Elegant good luck on race day!
If you would like more information about the race go to-http://www.oatlands.org/oatlands-events/