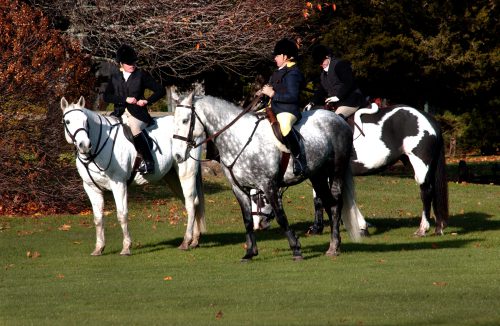 Chasing a Fox aboard Sir Thomas Pink on the left.
With these gals we make a  Point Two wearing trio.  (See, you can tell we have our colors even with our vests on!)
Our season ended last Thursday, but we know a lot of you are in the thick of it!  We thought we would go over the rules. As you know, everything we do while out Hunting has a practical reason.  Here's one of the reasons we wear our formal kits.  Whether you are out with your pack or visiting another, it's good to know who's, who.  If you look at what folks are wearing it will give you a map as to where you should be riding.
The professional staff will all be wearing livery jackets with square front corners, five buttons, hat ribbons down and vertical stock pins.
Masters will also have square corners, but four buttons, unless the Master hunts the hounds and then they can wear five.  They will have their stock pin horizontal.
The field masters will be wearing jackets with round corners and three buttons, and they will be announced at the beginning of the meet.
The field should all be wearing jackets with round corners, three buttons, stock pins horizontal and hat ribbons up.
Another distinction you will see in the field are riders with their colors.  The men will be wearing a scarlet jacket with three brass buttons, round front corners, horizontal stock pin and ribbons up.  The ladies with colors will also be wearing jackets with round corners and three buttons.  These buttons will be engraved with the hunt's insignia.  She will also have the hunts colors on her collar. These folks have been awarded their colors at the sole discretion of the Masters who have recognized them as making a significant contribution to the hunts tradition of sportsmanship and other criteria.
The riders who have been awarded their colors have one more distinction in the order of the field.   They are entitled to ride at the front of the field behind the Field Master.  This is referred to as the "right of colors," regular hunting members should make way to a member wearing colors.
This is just an overview of one of the reasons we wear our formal attire.  It really does give you a map of who's who and where you should be.  We also want to point out another important reason for our fancy gear.  We always want to show the utmost respect to our landowners who make this sport possible.
Kick on!
XO